Corporate Wellness Workshops in Geelong West
Professional Corporate Health and Lifestyle Services
At The IN8 Life, we offer corporate workshop packages to address a range of common issues affecting workplace productivity, morale and general wellness. Our corporate health workshops services may help your business or company benefit from
Fewer sick days and workplace injuries
Happier staff and a more efficient workplace
Improved staff health and therefore improved productivity
Improve Your Bottom Line with a Corporate Workshop
Did you know:
Absenteeism in Australia costs businesses $30 billion per year, which is $385 per day, per employee?
From 2005-2006 presentism (underperforming due to illness) cost Australian businesses $26 billion?
Unmanaged reactions to stress are a more dangerous risk factor for cancer and heart disease than either cigarette smoking or high cholesterol foods?
We offer corporate wellness programs for small, medium and large businesses in the Geelong West and Bayside areas. We have performed over 220 programs in four different countries in two different languages. Over the last five years, our workshops have directly helped over 10,000 people world-wide—so we know how to get happier, healthier employees and save money for businesses along the way.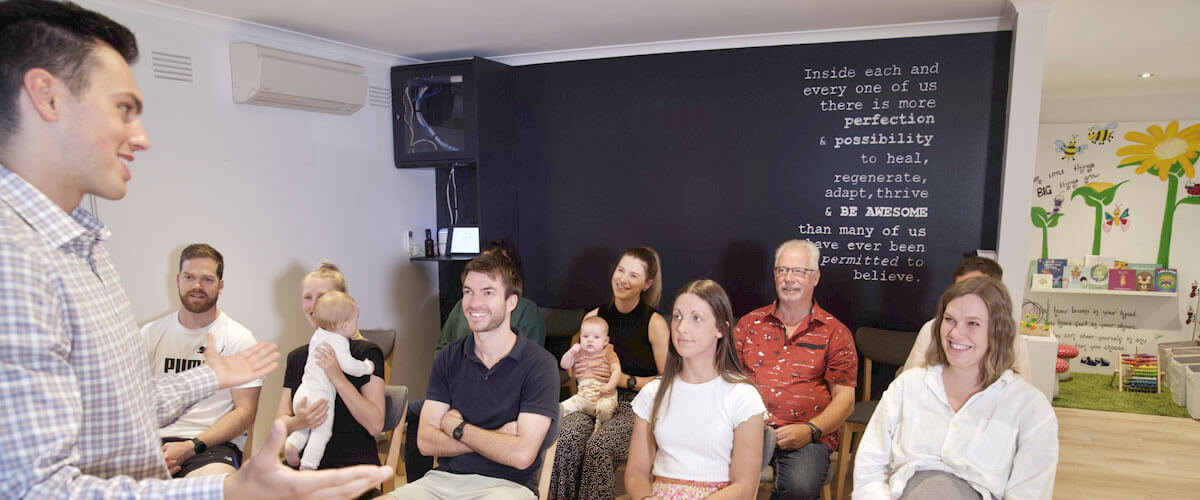 We Are Here for You!
Locally, we have performed a number of our wellness workshops with
Cotton On
Lake Imaging
Whitford Property
Tribal Group
Local football clubs
Retirement groups
Our skills involve helping move employees from a state of awareness into a state of action. This means that after one of our workshops, we have a 65-80% success rate at getting employees inspired to act on their own health immediately, which can be done outside of work hours as well!
This is not only a huge benefit to the individual person but also to the employer. It means happier and healthier employees, a more desirable work environment and a more efficient workplace—plus it saves the business money by decreasing absenteeism and presentism.
The benefits for your business is straightforward – you will learn the following:
How to reduce sick leave and increase staff performance in your workplace
How to save money and increase effectiveness of the workplace
Corporate Health and Wellness Workshops
We come to your workplace to provide an engaging and inspiring wellness workshop. We have a range of different topics that we can expand on, depending on your preferences and needs.
Workshop runs for 30-40 minutes followed by Q&A. Total time is one hour.
Our in-depth and health inspiring workshops include
Managing Stress and Anxiety
Brain Fatigue—Supercharge your efficiency in the workforce
Burnout— How sleep affects your energy and health
We can help guide you through which workshop may benefit your staff best.
Learn More Today
Contact us today to learn how our corporate health and wellness workshops may help you, your employees and your bottom line.
Book Here
Corporate Health Workshop Testimonials
Cotton On Employee Testimonials
I loved last week's session. I went away and wrote 25 things I was grateful for. At the start I thought I'd struggle to hit 25 but once you start it helps you to see other things you have to be grateful for! I'm also working on my 100 goals which has helped me in really making sure I'm spending the time to work on the things that are important to me! I wish all of my team had the opportunity to attend this session so they'd understand my crazy addiction to positive thinking!
I found the session to be great, gave me a few new tips that I hadn't thought about before that I have found useful. I think it would be great to do this in teams also within brand – as part of a team building/ bonding session to increase positivity around each other.
I really loved the session. He was really upbeat, positive and funny, and I felt really inspired afterwards. The only downfall was that it wasn't long enough! Thanks for organising!

Corporate Wellness Workshops Geelong West, Geelong, Newtown VIC | (03) 5298 1838